Student Report fom Rebecca and Santiago
Hello everyone we are Rebecca and Santiago, two Italian guys who attend IIS Sandro Pertini in Alatri.
In 2019 we decided to participate in the Erasmus project "Art for inclusion's sake" and we hosted young people who came from abroad, more precisely from Turkey.
Unfortunately, due to the Covid-19 pandemic, we were unable to travel in 2020 but a week ago, from 14 to 20 November we took our first flight to Spain, Tenerife.
Before arriving we were very anxious, we could not wait to see the families that would host us! We had a very good time, we felt as if we were staying at our home.
It was a very intense week, we faced different activities both at school and outside, we visited the Teide, Santa Cruz and on the last day, perhaps the most fun for us kids, we did some water sports such as canoeing, surfing, diving and the boat ride.
We became aware of another vision of life. We have seen the differences between our country and theirs. We realized that they are very open-minded people, there were no prejudices and all those other negative things indeed, the Spanish are very welcoming and nice people! When we were at school students who did not participate in the project also approached us to make friends.
We have known people that we will carry forever in our hearts. We can tell you that if you have the opportunity to have this experience, do it, because they are memories that we will carry with us forever and also because beyond the fun it will be very useful for learning the language, in this case English, in a way different than in the books.
Student Report fom Yasmine and Madalina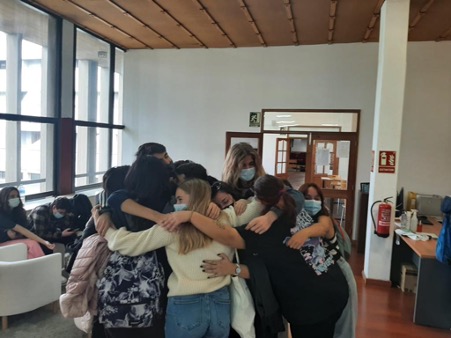 Hello everyone, we are Yasmine and Madalina, 2 students of Sandro Pertini high school (in Alatri, Lazio). Our erasmus' trip started in 2019. In that year the project was at its best, students from all over the partner countries arrived here in Alatri. In November of that year Madalina hosted a Dutch student while Yasmine couldn't due to personal reasons but she did participate in the project.
This school year we were able to go to La Laguna, Tenerife.
The experience lasted one week (from 14th november to 20th november 2021) and we were hosted by some of the students of I.E.S La laguna.
The erasmus project Art for Inclusion's sake is an amazing project that made us improve as people, and it made our cultures knowledge bigger (when we were in Tenerife we visited a lot of attractions and different cities and we tried a lot of typical foods) and we had a new vision of the world (the population here has a whole different mentality from ours, they were all super kind and happy, they didn't care at all and they didn't have stereotypes).
The activities were held both in the high school and outside, for example we went to the National Park of Teide. We also did Water sports and they were really enjoyable.
During the experience we felt really comfortable with our host families, they made us feel at home. We created a strong bond with almost all of the exchange and Spanish students, and with some of the teachers too.
We think that everyone should experience this trip at least once a life because it is an incredible trip that changes your life. We will keep these memories like a treasure. We can't wait to come back there and make more memories with all of our friends and with our Spanish families.
Thanks for the attention.
Yasmine and Madalina from Italy.
| | |
| --- | --- |
| | |
| | |
| | |
| | |
Equality and diversity: Erasmus countries compared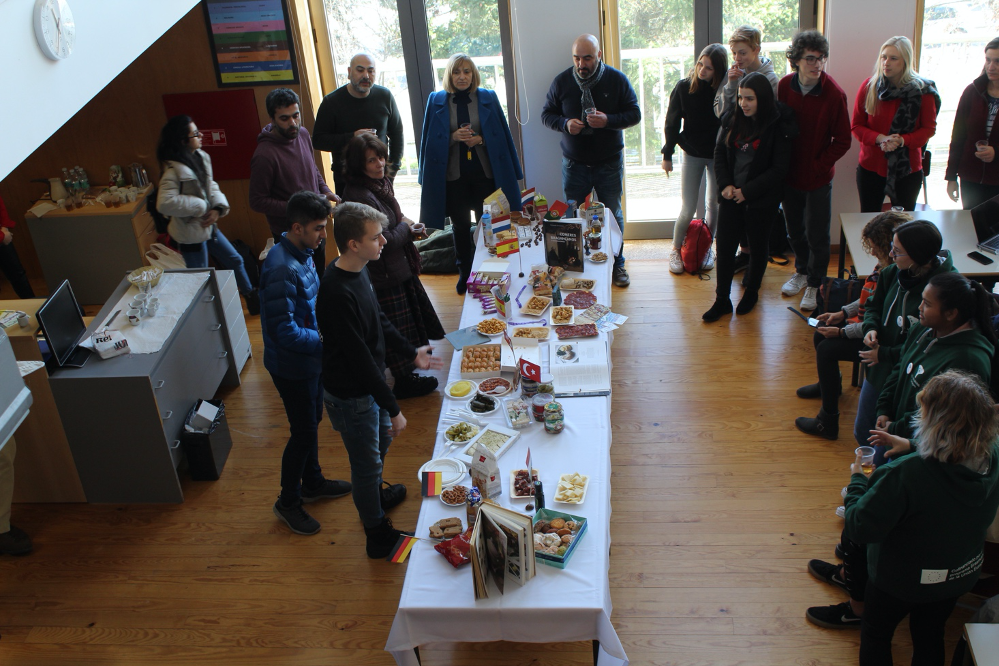 The school IIS Sandro Pertini in Alatri has joined Erasmus projects which give students the opportunity to travel and participate in educational activities in other countries for the purpose of inclusion and sharing.
The Art for inclusion's Sake project plans to carry out activities related to art that allow inclusion with the participation of the following countries: Italy, Portugal, Spain (Tenerife) Netherlands Germany and Turkey.
Following the first mobility of all countries in Italy and the second journey of all countries to Portugal, the young people expressed their thoughts about the elements of equality and diversity of their peers and the cultures of the countries of origin.
The first element of comparison was on the relationship that was born between all the boys participating in the trips; they reflected that the character of the spanish portuguese and dutch boys in both trips was very open, sociable and friendly. While they have seen more discretion in Turkish boys.
During the activities in which the traditions of the various countries were represented, the students of Turkey, however, showed a side of their very hospitable and engaging character because they danced and made the whole group dance with their typical dances and traditional songs.
The dance was also involving by the Spaniards while the Dutch and German group did not present typical dances.
Another element of comparison was the food, having organized a fair of typical products from all countries in both trips: they saw similarities between Italian, Spanish and Portuguese food and appreciated the differences with other countries. In particular, a big difference concerns the Turkish boys who by religion cannot eat pork.
All elements of diversity and equality have been interpreted as enrichment of knowledge and inclusion.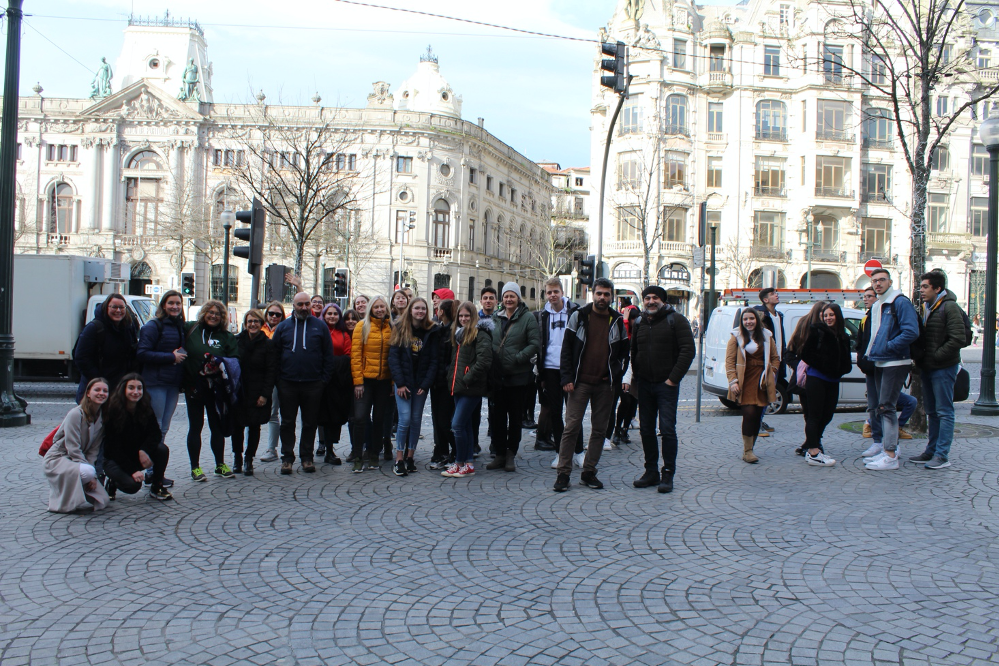 A week in Bragança by George, Maria Laura, Davide e Giulia
Last January we went to Bragança in Portugal for our first LTT meeting.
We take part to a school project called Art for inclusion's sake which is an Erasmus + project.
It was an incredible experience for us!
We made new friends, we got in touch with a new culture, we learned a lot about respecting other cultures and people.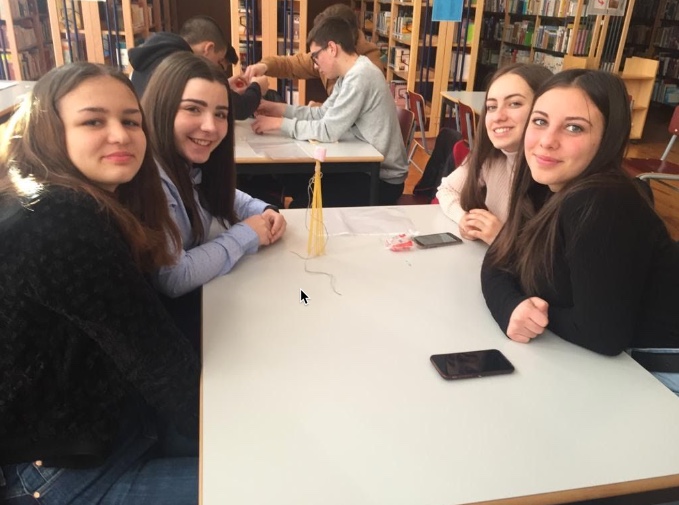 We worked in international teams and learned how to cooperate and respect each other.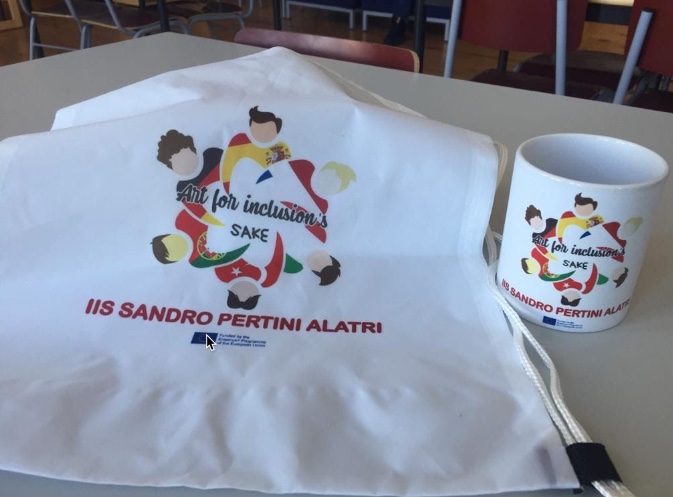 We took some nice presents for our hosts with our project logo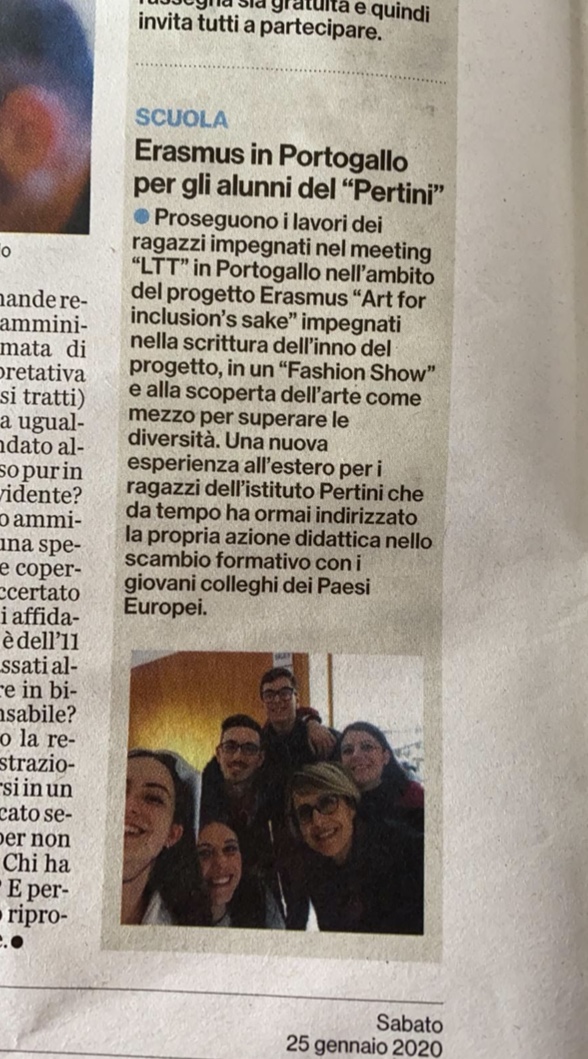 We had a press release to disseminate our project in Italy and inform everybody.
It was just amazing! We visited new places and we spent a day in Oporto and in Madrid! It's been a unique experience for us all!
HOSTING A FOREIGN STUDENTS
We hosted a group of foreign students from Spain, Portugal, Turkey, Germany and the Netherlands from the 17th of November to the 23rd 2019.
It was the first time we hosted someone from abroad in our homes.
At the beginning we felt anxious, scared, excited and curious but in the end we were very sad to say good bye but also very happy for this experience.
We learned a lot of new things like:
WE LEARNT NEW TRADITIONS

WE EXPERIENCED NEW ACTIVITIES AND THINGS

WE LEARNED A NEW LANGUAGE

WE IMPROVED AND PRACTICED ENGLISH

WE MADE NEW FRIENDS

WE GOT USED TO NEW HABITS AND SHARED EVERYTHING WITH

ANOTHER PERSON

WE ATE A LOT FOR THE WHOLE WEEK!

WE SHARED OUR HABITS TO LET OTHER STUDENTS DISCOVER OUR

CULTUR

WE SHARED OUR OWN THINGS WITH SOMEONE WE DIDN'T KNOW
REALLY WELL.