Students report - Turkey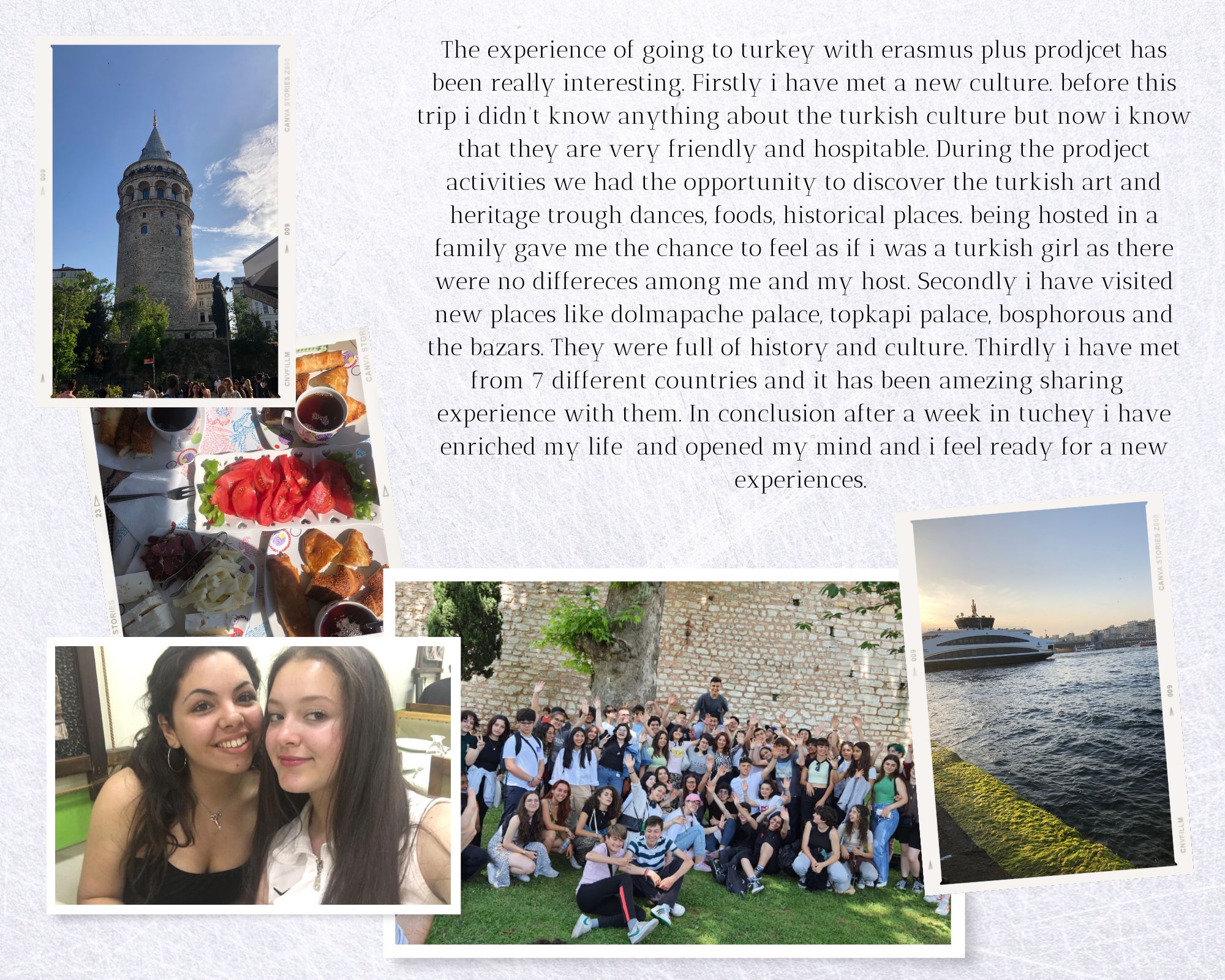 My name is Hatice Tuğçe from Tuna Anatolian High School,Turkey. I wanna write about the program in Netherlands.

I loved the program. It was good.I loved the teachers and the students.They were so kind. And I also loved the other students from other countries.First 2 day we were in the school and we had a activity. Wendesday we got on the boat.It was really good I saw all the beauty's of amsterdam. Thursday and Friday we went to the museum.We learned the cultures so it was really nice.We had a cultural food night.
And we played games in the gymsaloon. Amaterdam is really good place to go, shopping and living. It was good experience for
me. So everything was nice. And I loved Regina she was so nice.
---
My first impression about This project is, it is a very helpful opportunity for our personal development. I want to improve my English skills so this project helps me a lot. When I come to in Italy I felt so different. Because Italian culture is so different than Turkish culture. Sandro Pertini's teachers and students are so friendly and helpful. I like my hosts and my project friends so much.
My first impressions about the project were very positive. It's a helpful project and we talked about much things. My host family is really nice and I really like them. The Italian food is so delicious and I tried new things. The activities are cool. I think the project is a good experience.
Erasmus was a big chance for all of us. We learned different cultures and some of words. The activities were fun to our age. We've made great friends in other countries. The program was so good for improve our english. I hope everyone can have that chance in the future. And of course me too, again:)))
CANSU BALLI
---
One of the most beautiful places i have ever seen in my life. Everything was perfect. W
We evaluated our time very well. We have amazing home and friendship. We are honoured that visited braganca. They have so delicious food such as; fish,soup,etc…
We visited so beautiful some place for example; rui de onor village, castel o de braganca ….
Porto is so historical place and charming
It was a very nice week
I hope i go again
ELİF BAYSAL
---
This article is about with Erasmus in Portugal and i am going to be write my feelings and thoughts about everything like program, trips, hosting, service and introduction.
I went to Portugal with big dreams and expectations because that trip was my first abroad experience. I was so lucky to see 2 different country with in one trip. Mobility was quite good for us and everything was like chosen with scrutiny. It was too late when i meet with my host, directly we passed to his home. When i arrive, i felt like in my home and everything was like set up scrutiny specially for me. Then we introduced our country, city and school in auditorium at first day. At the Ethnic Buffet everyone introduced the food and dishes from their country. In free time we visited the Bragança. On Tuesday i attended the lesson with my host and the teacher were speak English especially for me. Then we spoke about 'How to solve common problems?' with interpret the paintings. Thanks to this activity, we know each other well. Also i can say, traditional fashion show was the best thing for socialize with other students from foreign countries. Because everyone was seeming very funny. On Wednesday we traveled to Porto, i liked Porto for it is a big city. Although the much population, i realized they designed an awesome country. My all day passed in Porto and it was unforgettable day. Everyone was have good friendships with other students. Also day by day we learned Portuguese Dance, we spoke about words of respect, we drank a coffee with poems of Pessoa.
Shortly it was memorable week for me. Program, timetable, mobility... Everything was really good and beneficial for know a country, life and culture. I already miss all my friends and i really want to meet again one day.
EFE VATANSEVER
---
I had little knowledge of Portuguese cultures before I arrived in. The meals we eat, our lifestyles, the lessons taught in schools were all very similar. I think the most similar thing between these two countries was hospitality. I was hosted much better than I expected. The family that hosted me was awesome. They made me feel at home. Everyone in the family is very good people. Everyone approaches each other with respect and love. Likewise, her friends and teachers too. Bragança is a small and beautiful city. It's definitely a place I want to live. It is a quiet, calm and safe city. Although it is a small city, it has places to see. Especially Bragança castle was my favorite place in the city. I think that Porto is one of the most beautiful cities in the world in terms of tourism. It has many historical buildings and beautiful views. It was one of the most beautiful weeks of my life. If I have the chance, I would definitely like to come again. I had a great time. I made very good friends. and I met a family I will never forget. I hope I can see them again in the future.
TOLGA öZTÜRK
---